It wasn't long ago; most businesses believed outsourcing their IT was unnecessary. They could easily hire an individual, with some basic technical knowledge, to cover the day-to-day operations in-house. However, those chores have changed. With increased security threats, stiffer government regulations, ongoing technology training for employees, and the push towards augmented intelligence and machine learning, successful businesses started shifting away from that old model.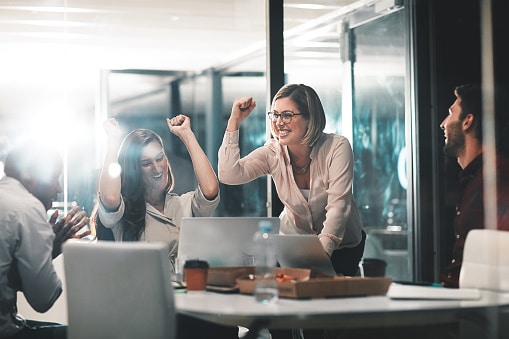 What are the Four Tech Chores You Can Delegate For Outsourcing?
Today IT outsourcing is no longer a chore, but rather an expected path most businesses automatically choose. With the recent advancements in information technology, over the past few years, startup business owners have avoided old-school IT chores and headaches by delegating the IT outsourcing. Their decision has reduced startup, labor and equipment costs.
Below we've listed the technologies you can easily delegate to an outsourced IT service provider, that will reduce business expenses, cut unnecessary labor costs, protect your information, and prevent unauthorized access to intruders.
1. Infrastructure
Infrastructure-as-a-Service (IaaS) — Let's begin with outsourcing your equipment. You have the hardware, a network system, and servers. These are your physical assets on your premises. Were these assets ever inventoried? If any of your equipment went down, what's the next step? Were there policies or SOPs created regarding the assets? How old are any of the assets?
These kinds of questions and chores you avoid when you shift over to outsourcing your infrastructure. But, without an infrastructure provider monitoring your IaaS, your company is exposed to unexpected downtime costs, plus the added labor costs with your in-house technician trying to determine the issue.
When you start constructing and maintaining your infrastructure, it's neither easy or cheap. When you delegate the outsourcing of your IaaS, this is where your IT expenses drop. Just remember, the IaaS service provider will own and use their equipment. Instead of you, they are responsible and capable of running and troubleshooting the systems. What you pay for is either a monthly subscription or per-use.
2. Cloud Hosting
Cloud Hosting – allows your staff to access business information anywhere, at any time, using company assigned equipment or an employee's personal laptop, tablet, or cell phone. When you host your cloud system, that becomes costly, plus the security risks are higher, especially if the technology is outdated.
When you delegate outsourcing to cloud technology, the days of having to maintain in-house cloud servers are over. As for moving forward you and your staff only use the cloud. Without the need for servers, that is equipment your company doesn't have to purchase.
If you are new to Cloud Hosting, one more thing to know is that data and a network in the Cloud are slightly different, but share the same basic principles as other environments. The next item of importance is that because the Cloud runs in data centers, that are staffed by experts in Cloud services, information stored in the Cloud is more secure than stored on servers on your premises.
3. Cybersecurity
Cybersecurity – When it comes to cybersecurity, this is where it comes to complete and secure protection. But, here's where some due diligence, on your part, takes place. There are a few things business owners may not know but need to be brought up to speed when outsourcing this crucial IT function.
Virus scans are not Cybersecurity
In-house cyber protection is limited
Some IT and MSP companies only offer cybersecurity as a vendor
Cybersecurity experts specialize in anticipating and mitigating threats
Remember IT vendors usually tell you that your data is safe, but cybersecurity experts know, IT networks get built with security, if any, as an afterthought. And they will advise you that no single company can guarantee 100% data safety and protection.
That doesn't mean the IT vendor doesn't have tight security measures in place, only that cybersecurity experts know the vulnerabilities, and can offer an extra layer of cyber protection, the vendor can't, that will prevent disasters, quarantine the breach, and resolve security issues quickly.
4. Email Hosting Services
Email Hosting Services – All it takes is one accidental email reply to get your system hacked and loaded up with ransomware. Due to ongoing efforts from hackers and cybercriminals, delegating email services to get outsourced, not only reduces IT system risks but can spot the activity before it makes it to an unsuspecting employee's inbox.
When you outsource your email chores, there are quite a few benefits an in-house technician cannot provide or combat.
Email Migration—This is a service to simplify any correspondence. That would cover content conversion, email forwarding, and property mapping.
Security—Your business relies heavily on email for data transmission and must remain secure. Proactive security management gets set in place to monitor any potential vulnerabilities.
Filtering—Establishing inbound and outbound filtering criteria, eliminating spam from employee's inboxes. Blocking sensitive emails and placed in the proper mailbox.
Employee Training—Employees taught how to spot phishing attempts, masked Adware, identifying social engineering emails attempts, or replying with personal information.
Did you find this article informative? If you liked this one, check out our other content we think you'll find interesting.