What Is Co-managed IT?
Where to source IT management is one of the toughest decisions the modern-day executive has to deal with. It never gets any easier when you already have an in-house IT unit, and you still feel you need more.
In such circumstances, you start weighing the option of disbanding your existing department for a full outsource management. From the surface, it looks like the best way out.
But what happens to your staff? Do you just dismiss them summarily? What if the external team does not blend well with your business? It's not as if the existing department is that bad. Actually, they were very efficient sometimes before — it's just that your business is growing and its IT needs are changing. Maybe with a little push, they could do better. But at what cost?
By the time you are done considering all these factors, you are left more confused than you were before. But one question is still unanswered: Do you outsource IT support or trust that things will be better with your internal team?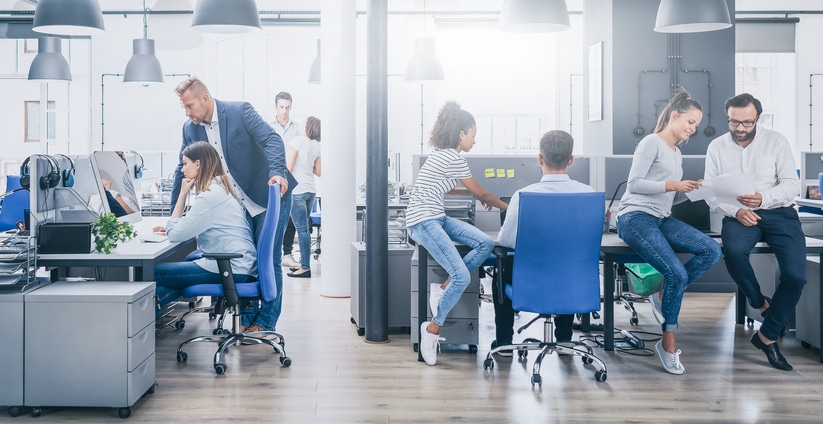 Outsourced vs. In-house IT Management… How Co-Management Is The Way Out
If you already have an in-house IT department, it's because you wanted a team that understands your organization to the detail. A crew that gives your business personal attention, and is part and parcel of its aspirations. Assuming that is what you got, why are you still considering external help?
The answer is simple; outsourced support comes with its fair share of windfalls. From better technology to access to experienced personnel with a broad knowledge base, there is always something to gain from outsourcing. However, you have to forgo the privileges of insourcing.
So how does Co-management solve this dilemma? With co-management, you do not have to choose one and forfeit the other — you reap the advantages of both options.
What Are Co-managed IT Services?
This is an arrangement that you make with an IT service provider to work in conjunction with your existing staff. The outsourced team does not displace your IT department but augments and helps it optimize its efficiency. It's more like having an external division of your in-house unit.
Does it make things any better? Yes, you retain your internal team that understands your firm and support it with top-tier technologies and specialized experts.
Who Needs Co-managed IT?
Whether you run an SMB or an international organization, here are situations that may necessitate outsourcing of Co-management:
Your IT Department Has Limited Scope or Expertise: Very many prosperous organizations survive on just a few IT technicians who are specialized in only a few areas. It is, however, typical for them to sometimes feel inadequate in terms of IT resources and skill sets. Co-managed IT services deliver to these entities a helping hand and extra resource muscles supplied by the dealer on demand. For instance, the executive can assign the existing intern IT department to concentrate on routine functions as the service provider is contacted to deal with rigorous time-consuming higher-level issues.
Your In-House IT Staff Is Overburdened: When was the last time you gave your IT specialists a decent burial? Some extreme cases have seen staff only having breaks during weekends. The last thing you'd want is for them to lose concentration, and that is precisely what overworking them will yield. Soon, they will start missing out on essential cybersecurity procedures like routine updates.  Is your IT staff compelled to work past office hours and even during weekends to cater for the inadequacy of talents? If you don't find help soon, you will end up having unenthusiastic staff who only fix broken computers.
Your Existing IT Team Is Inexperienced With a Forthcoming Project: As IT advances by the day, companies are always confronted with resources to enforce emerging technology infrastructure and protocols. However, their internal staff may be lacking in the requisite expertise and experience for strategizing, deploying, and sustaining the projects efficiently. It is only right in such circumstances to seek professional outsourced assistance to help your in-house team through such programs. In so doing, your staff also learns how to handle those initiatives from the external unit.
What Are The Perks Of Co-managed IT Services?
It Helps You Save on Cost: IT management is arguably one of the most expensive investments for any present-day firm. You have already spent a fortune buying equipment and installing software. If you imagine adding the expense of more specialized talents to your already extended wage bill, the best option is co-management. With such an arrangement, you do not hire extra staff nor remunerate them — neither do you worry about the technologies whose benefits you enjoy.
Get the Latest Technology and Experienced Support: It's characteristic of any established IT support company to facilitate continuous capacity-building programs for their engineers. They are also known to invest heavily in acquiring top-notch technologies. Partnering with a service provider to co-manage your networks grants you access to all these amenities.
Manageable Workload Distribution: Assign the IT supplier recurrent and involving tasks and free your staff to concentrate more on the business. Do your IT experts want to go on a vacation? Did they call in sick? Just a call to the co-management team will straighten things out.
Improved Network Security: For most executives, outsourcing IT support is hinged on the guarantee of enhanced cybersecurity. Nobody wants to spend $1.67 million in mitigating a cyberattack that they would have otherwise prevented. With a background in averting and solving data breaches and a broad skill sets-base, the co-management team is best suited to safeguard your network.
There are more benefits to co-management than the ones mentioned above. Like in any other IT undertaking, to get the most of co-management, the trick lies in finding the right IT support company.
Co-managed IT Solutions From PNJ Technology Partners
We bring on board over 30+ years of tested and proven record of top-tier IT solution service provision in Albany. Our Testimonials speak to a team that is dedicated to helping their partners grow through hyper-professional solutions.
Co-management is a service that is essential to us as all the others we offer; we don't consider it a tertiary service.