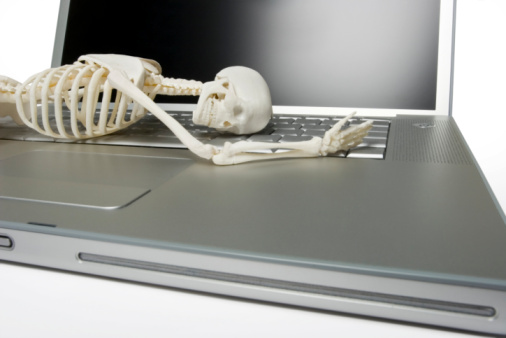 Technology systems don't last forever. No matter how good a computer or a server is, it will need to be fixed or replaced at some point down the road. Unfortunately that's lead to some business owners treating their information technology like disposable razors: whoops, this one's dull – better go buy a new one. If you treat your IT like that, you'll never get back the investment you put into it.
The best way to make the most of your IT investment is to care for it. If you give your computer systems and IT networks a little TLC and proactive maintenance from a team of skilled IT support experts, you can get a good and productive lifespan out of your systems without sudden failures that can set you back.
In our years of providing information technology support and solutions in Albany, we have become pretty good at figuring out when a computer is getting ready to bite the big one. Computers will give out warning signs letting you and us know when something is going wrong, so you need to know what to look out for and ultimately what to listen for.
Here are five warning signs your computer will more than happily share with you:
Software Glitches: Regular and sometimes frequently software crashes, freezes, and glitches are a telltale sign that something is going wrong. When your business applications run into issues, it causes your computer system to slow down, show a fatal error, and even crash. If it's just one program, your computer isn't dying just yet, but if several programs exhibit the same behavior, something needs to be done.
Hardware Malfunctions: Does your mouse freeze on the screen? Maybe your monitor has launched itself to the world of Technicolor? Did you just plug in your printer and the computer simply can't find it? We may have a hardware issue. There are many possible problems that would lead to a hardware issue, and if they're left untreated, you can be sure that more problems will keep cropping up. This is where your experts at PNJ Technology Partners parachute into action.
Your Hard Drive or Fans Are Ready To Launch Into Outer Space: When you hard drive is making clicking noises or sounds like a grinder, it is most likely getting ready to crash. If your fans are noisy, it could be dust or dirt, or the computer could be working very hard and the fans are running excessively to attempt to cool the system down. Regardless, it's a sign that something isn't doing what it's supposed to, and you don't want to just ignore it until your computer gives up and calls it a day. Once again, you need your team of computer support experts to help. Call (518) 459-6712.
The System Shows Errors On Boot: Errors like "Disk Boot Failure" and slow startup times are signs that something is wrong. A boot failure is a sign that your hard drive has become corrupt or stopped working. Your system has now crashed and you need the help of a tech support specialist. If you see messages like this popping up, but you're still able to use your computer, count yourself lucky and get some support right away – you won't have to work as hard to keep your files and systems safe.
Performance Goes Downhill: Is your computer sluggish, unstable, and crashing a lot? This could just be a full hard drive, or it could mean a virus has infected your computer. Something is eating up your speed, and that's going to lead to wasted time and energy fighting with your systems, when you'd rather be getting work done. Something's not right. Call your computer experts at PNJ Technology Partners for help.
Computers fail. It's not IF they fail; it is WHEN they fail. Your business in Albany must have a trained team of IT professionals who can ensure that your IT systems remain fine-tuned and in perfect working order, so you'll be prepared for a smooth and easy transition to new systems when the time is right. Have questions about your computer support? We are here to help.
Here is our last tip: Make sure you have a full backup of your system at all times. You computer can be replaced, but your data cannot. Make sure you have a fully tested backup solution that protects your hard work.
Need quality computer support? Call (518) 459-6712 or email us at info@pnjtechpartners.com. We are here to help provide you with the technology support your business needs, every day.