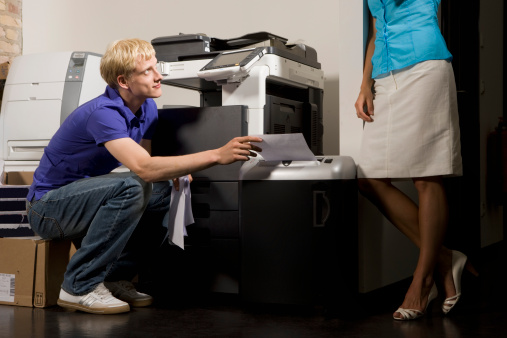 There is nothing more frustrating than being pressed for time and your printer jams. Of course, it always happens when you have a very important deadline looming. Murphy's Law is cruel, after all. You run over to the printer, clear out the jammed paper, and think you are in the clear. Wait, nothing is coming out. Why is that?
On most business networks, the printer you just cleared out is controlled by a print queue. This print queue may reside on your network server or a computer on the network where the printer is shared out. These print queues sometimes get bogged down with requests, particularly after another problem (like a paper jam) has happened, and they can just cease to process print jobs.
What do most people do? Well, they open up the print icon on their computer. Most times this printer icon can be found in the computer's control panel, depending on if you are running Windows or Mac.
When you find the print job that is holding all the other jobs up, you can go ahead and delete it. That's how it's supposed to work anyway. You may need to resubmit that particular document or file for printing again. If all is well, the printer fires up and paper comes out with the information you need printed on it. Simple, right?
But, here is what can happen from time to time (Well, lets be honest, it happens a lot). That print job just won't delete. Everything is jammed up and you're banging your fist on the desk with increased frustration, maybe screaming or crying a little.
For our clients, help is just a phone call away. Call our help desk at (518) 459-6712 and one of our computer and network support experts will connect in and work their magic. But, for you business professionals out there who are not clients of ours yet, here's a nifty little trick you can try out:
There is a great program available online called Print Queue Cleaner. The nice thing about Print Queue Cleaner is that there is nothing to install. Just download it and run. According to their website, you can fix your stuck print queue in under 30 seconds.
There is another neat function in Print Queue Cleaner. You can test all the printers that you are connected to by sending a test page. This allows you to make sure everything is working properly.
To download Print Queue Cleaner, head over to http://mikesmagicbox.com/free-tools/print-queue-cleaner/ and click the download button just below the DONATE button. Of course, if you like this product, you can elect to make a donation.
Still want to clear out your stuck printers manually? Here is how to do it if you're running Windows:
Click on your START BUTTON and type SERVICES.MSC in the search box.
Scroll down the list of services to find and select "Print Spooler". Click "Stop" in the left panel.
Open Windows Explorer ("Computer" in the Start menu). Navigate to the spooler directory (normally it is "C:WindowsSystem32spoolPRINTERS").
Delete all the files in this directory.
Go back to the Services panel and click "Start".
Have questions about all our managed IT services we offer? Call PNJ Technology Partners today and book a no obligation IT review with us. You can contact us at (518) 459-6712 or email us at info@pnjtechpartners.com.