LinkedIn can be a powerful engagement and SEO tool — if you use it correctly.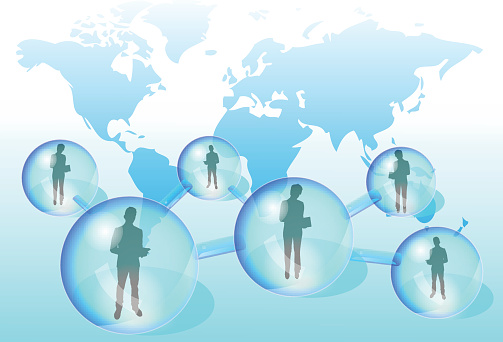 For B2B companies and growing businesses looking to expand their reach, LinkedIn is an often-underutilized platform: It's not just about networking – it has tremendous brand-building potential. When making more complex decisions about purchasing products and services, buyers turn to the professional LinkedIn site more reliable than they look at Facebook or other more casual sites. Here's how you can really put LinkedIn to work to increase your engagement and find more prospects.
Include Highly Visual Logos
Yes, the graphics that you upload and add to a brand profile are actually important. The banner at the top of your page and your company logo does a lot of work – they are the first things that viewers see and allow you to connect the page to the rest of your brand through easily recognizable logos and colors. So, make sure your company logo is upfront and center and clearly visible across platforms (including mobile). If possible, include additional quotes or information in the banner as well. You may also be able to upload a background image that can help establish your brand's visual appearance.
Use Basic Profile Descriptions Carefully
Every brand has space where they fill out specialties, their website, company size and so on. This little section is important, both for SEO and information. Under the "Website" section, don't just link to your home page – choose a specific landing page for your services or for selecting a product so that people who click on it are brought closer to the end of the sales funnel. Under the "Specialties" section, don't just talk about your offerings: Include keywords associated with your brand.
Include Product Pages
LinkedIn allows you to create product/services pages to note what you offer. Create these pages, but make them as user-friendly as possible: Don't try to do an exact copy of every product page on your site if you can avoid it. Instead, make several product pages focused on the categories you have, and then break down these categories into more specific lists. Of course, if your brand only has a few different products/services, you have more flexibility here, but always remember that viewers come to LinkedIn to learn about the company as quickly as possible, so don't waste their time.
Prepare Showcase Pages
Showcase pages are designed to be attractive additions to the LinkedIn profile that expand on a specific part of the brand that you want to draw special attention to. Use a Showcase or two to highlight what makes the brand special: It could be a long-term discount, a technology the brand is proud to use, or some other aspect of the company that's a strong selling point.
Target Your Posts
It's a good idea to create regular LinkedIn posts, but make them more professional and informative than the average Facebook posts. Remember that you can "target" LinkedIn posts to different audiences of 100 or more contacts, which can be used when advertising a specific deal to a corner of your audience. Even if your posts stay general, however, do them consistently so that a prospect can look at your post history and get a good idea of your tone along with a lot of information about your operations.
Participate in Discussions and Post Pieces
LinkedIn conversations are a great way to make contacts and get the brand name out there. You should also try publishing original articles concerning your industry when possible (you can also use pieces that employees have published via Employee Perspectives). These pieces can contribute to thought leadership, and they are a brilliant move for B2B companies in particular. However, quality is important: Don't talk about what you don't know, and don't try to publish fluff pieces that have no data or new conclusions. Instead, pay attention to industry news and look for ways your own experiences can contribute to a greater conversation about particular topics.
Make Sure the "Faces" of the Company Have Great Profiles
Faces include those likely to be linked from the profile page, such as CEOs, customer support, PR managers and so on. Viewers will often click on these links to get a better idea of the organization and to find the right people to contact: It's important that they have very strong, updated profiles, so prospects are impressed when they seek to make a connection. You don't have to seize control of their profiles but maybe set some LinkedIn guidelines.
Involve Your Employees
Chances are good that you have a lot of employees on LinkedIn, too. They can help! Encourage them to share important posts, articles and discussions. Ask them to refer friends and prospects to the LinkedIn page to learn more. They can also participate in discussions about important pieces or industry trends. This can really make a difference: Employees traditionally have much higher share rates than companies on LinkedIn, since others are more likely to read and share something from an individual. Plus, it can help employees make new contacts of their own, too.
Gear Everything Toward Partners and Buyers
The language and tone you should use in LinkedIn descriptions should be geared to engagement. Don't stay static and boring: Instead, talk to the potential prospects who may be viewing the profiles: Talk about how you can help them and where they can find valuable information. In general, let them know that you care. This can make a lot of difference when prospects are viewing multiple LinkedIn pages at the same time.
Remember that LinkedIn is a more professional network: It's a good spot to answer questions about products or recommend a solution, but it's not the place to carry on casual conversations or idle thoughts, which will dilute your message. For more information on how to use the right services to build your Albany brand, PNJ Technology Partners is ready to help! You can contact us at info@pnjtechpartners.com or call us at (518) 459-6712 to learn more.