Google Apps Create 'iPad Only at Work' Possibilities
The constant improvement and number of Google apps is now allowing more and more of us to be able to work solely on an iPad. Workplaces may soon see significantly more open desk space many departments make the conversion to iPad-only work environments. Graphics departments, however, will likely still prefer the big monitors, though they will probably have an iPad handy for doing work remotely. The possibilities are intriguing for those who like the mobility the iPads and tablets bring to individuals and workplaces alike.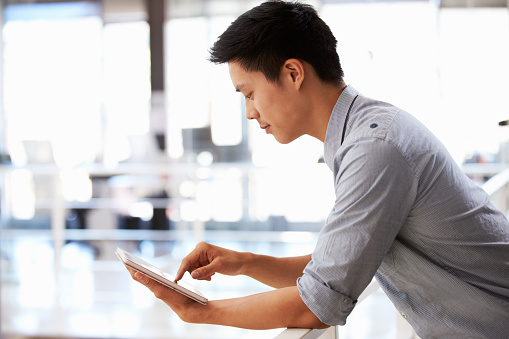 Expanding the Virtual Workplace
For those who do a majority of their work in Google apps such as Google Docs, Google Slides, and Google Calendar will find this welcome news. The virtual workplace has been inching toward an iPad-only work environment since the advent of the iPad. But only now, in 2016, has it hit home and office as a reality that nearly anyone who works with a computer and database of some kind can switch over to an iPad. The bigger-screen new generation iPad Pro may even entice some of the die-hard big screen graphics mavens. The sheer number and variety of task-enabled Google apps means that Google has, in effect, become a kind of virtual accounting and management department for business entities.
Split View and Other Improvements
Google's core document management and productivity apps now offer Split View on the iPad Air 2, iPad Mini 4, and iPad Pro, which enables users to see two apps on-screen at the same time. Choose the apps you want, and in Slide Over mode, you can pick which apps you want to work in side by side. Other improvements in iOS when using Google Docs, Sheets, and Slides. Outstanding improvements include:
Easier navigation of long documents
Smarter offline settings allowing you to sync files to your iPad
A new Q & A feature in Google Slides helps engage audience members
Expanded features in Google Docs for images, word count, and creating links
Office Compatibility Mode allows greater inter-app translation and data import/export
Better Multitasking
With Office Compatibility Mode, you can link up Google Docs, Sheets, and Slides with MS Word, Excel, and PowerPoint documents, for easier collaboration with shared-permissions partners. If you can't get a hold of one of the new generation iPads just yet, a function called Gboard turns a standard keyboard into a "search and swipe" app that supports image, GIF and emoji search capability, which should be especially good news for iTunes fans and "mini-multitasking" aficionados. The possibilities for the iPad-only workplace are expanded even more.
Getting Updates Up-to-Date
As of the publishing of this article, some cognoscenti in the Google iPad app circle believe that some needed updates should be forthcoming, if they aren't on the drawing board already. Tech Republic is calling for sorely-needed updates to Google apps like Inbox and Calendar before the end of the year, saying "the app that may need an update the most is Google Calendar." Make sure you get the core Google apps installed on your iPad along with the Gboard to ensure maximum navigability and access to the latest app features and tools.
We Have Your Google App iPad Solution
You'll also want to have full security measures installed on your company iPads, such as data encryption and password protection. Employees can pose as big a threat as outside cyber attackers, so bring the world of Google app-enabled iPads to workplace safely. PNJ Technology Partners is the leader in providing managed IT services in Albany. Have questions? Call (518) 459-6712 or send us an email at info@pnjtechpartners.com.