Microsoft Office, the software suite that gave us that blueprint for all other word processing software, Word, has gone to the Cloud. Office 365 (O365) offers a cloud-based alternative to the desktop Microsoft Office 2016. There are plans available for limited home or personal use, or professional business use. But the best part is the free educational version: Office 365 for Education.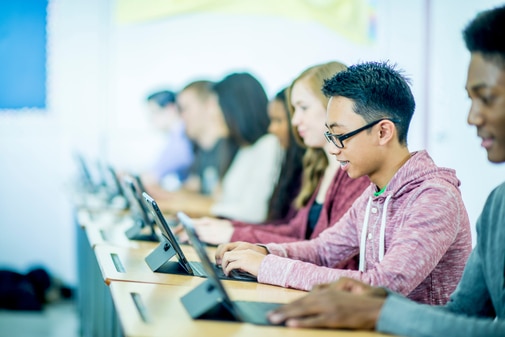 What Is It?
A collection of the most used Office 365 applications completely free for education employees and students.
Includes:
Word
Excel
PowerPoint
OneNote
Yammer
SharePoint
Who's Able To Use It?
Anyone with a current affiliation with an educational institution: faculty, staff, and students.
Eligibility
Must be enrolled in or working for a school. Anyone with a school-based email that can receive messages may subscribe for free. Former students or employees may still access a limited functionality version of the app that allows document viewing only.
Below are 28 Reasons To Start Using Office 365 For Education:
Access to a Trusted High-Quality Product
Most widely accepted word processor in use. Easier to teach to students and not much need to teach to educators. It doesn't need to be "gotten used to." Getting students familiar with this program prepares them better for college and the workforce later. They will encounter either Microsoft Suite or software that is extremely similar because offices use this software over all others.
Predictable save patterns. Users can set up a specific saving interval, save manually, or select auto-save just for emergencies. Contrast that with Google Docs, which defaults to automatically saving every time typing stops for more than a moment or two. A few errant keystrokes or a fight with a cat, and you're out of luck.
Saves work in a reliable format even when saving as a PDF. Moving information across apps is easier when they're all from the same platform too – everything is compatible.
Better spell check than most other paid programs (Microsoft 2016).
Has many options for formatting right in the program itself.
Online free or low-cost templates.
Tracks changes. You can see earlier versions of your document if you need to without using an add-on or extension.
Easy to migrate your files and preferences from your old versions of Office.
Portability
All of the applications on the free version are easily accessed and used from tablets, Chromebooks, and other limited use, low-storage devices commonly purchased by schools. With Office 365 and Office 365 for Education, there's no clunky installation using up all of the memory on student devices.
Students can use it on their phones.
One TB of storage for each user, with options to purchase more.
Reliability
Microsoft has been in business for decades and has not only consistently improved the usability of its software, but also offers high quality training resources on its website.
User-friendly.
Familiar. Whether you're aware or not, you have been using this software in many areas. The way that things work in Microsoft Office are the way things work nearly everywhere words appear on a screen. It's familiar and appealing with intuitive actions.
Cloud Storage
Saves space…literally. Saving to the cloud means less hardware and fewer AC units.
Saves a salary. See above. Let Microsoft handle tech inquiries and storage issues while your edtech team focuses on training and troubleshooting.
Limited functionality setting for former students and employees allows for document viewing. Everything is stored on the cloud and therefore accessible wherever – even after a student graduates.
Automatic upgrades! But without imaging, inserting disks, or resetting your computer to accept changes, because with O365 you are never installing anything. When the time comes to upgrade, this is done automatically and there doesn't need to be a whole technology roll-out from IT. It's just done.
Ultimate portability – finally a trusted product that can be accessed for free from any internet-ready computer. Just add an internet connection. And a laptop, tablet, smartphone, or some device that's not even on the market yet, like VR Slime 3D!
Sign up your school and add new users.
Free, helpful training and information program. Promotional kits get the word out and training videos online get everyone using the app to its fullest potential.
Option to upgrade for some or all by just using the paid version of Microsoft 365. Staff and maybe a computer lab available for students to use when the full Office Suite is required. For instance, maybe you have the free version for most of the school's users, with special lab access for the paid versions. In the rare instance that a subject requires the full suite, it's much easier to pay for a handful of licenses for one year or so to cover that class or office, rather than to install a paid program that is primarily used only for word processing anyway, on every computer in the school.
Scalability
It takes only minutes to sign someone up as a new user as opposed to installing the program every time someone needs it or automatically installing Office 2016 on a bunch of computers whether or not someone uses it (a clear waste of resources).
Cloud still saves documents and projects as view or read only after an employee or student leaves the school.
Free Promotional Kits are available to educators who have signed up their schools for O365 so you can get the word out about the new software and its features!
Collaboration. Applications such as Yammer and Sharepoint give teams a way to share work and communicate more effectively than email.
Microsoft Office for Educators Page. Such a helpful, cool resource. Offers tons of video tutorials and other training materials, as well as opportunities to share with other educators what you're doing in your classroom.
Interoperability Even With BYOD
Microsoft Office is now available on the Mac and other Apple products! So even the occasional square Macintosh peg in a round Microsoft hole can communicate with others. Great for BYOT schools who run into interoperability issues.
Just Try It Out – It's Free!
Now that Office 365 for Educators is available for free, there is no longer a compelling reason to waste money or waste digital and literal space. Try it on a limited basis at first to see if the program will work for you. It's not a trial, so there's no pressure to make a decision right away. If you feel that you need more than the limited version offers, purchase a plan that suits your needs and use the free version for instances where the comprehensive suite isn't needed. It's probably one of the easiest EdTech decisions you'll make this year.
Available Applications On O365 vs. O365 For Education
Office 365 (O365) Paid Version
Office 365 For Education
Cloud Based (non-desktop) version of the most recent Microsoft Office Suite
Free version of Office 365. Also in the cloud (not for the desktop). Has fewer features than O365 but is free to eligible members of the educational community.

Microsoft Word
Microsoft Excel
PowerPoint
OneNote
Outlook
SharePoint
Exchange Online
OneDrive
Publisher
Microsoft Access
Skype for Business
InfoPath
Microsoft Teams
Paid Subscription (Various Plans available; increased/unlimited storage begins after five paid subscriptions)

Word
Excel
PowerPoint
OneNote
Yammer
SharePoint