The PNJ Technology Partners team was proud to have recently attended
HPE's Discover 2017 conference in Las Vegas.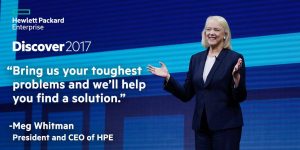 Held from June 5th – 8th, the event gave attendees the chance to learn more about today's biggest innovations, from the cloud to the Internet or Things, Data and Analytics and much more.
One key focus of Discover 2017 was how the latest improvements in technology have allowed even more benefits through digital transformation. HPE CEO Meg Whitman spoke on how to accelerate the right business outcomes using the latest innovations, and other senior members from HPE spoke on a range of accompanying topics, such as simplifying Hybrid IT, and recent changes in the era of Big Data.
We sent two of our valued team members, our Network and Sales Engineers, as well as two customers, from CAP COM FCU and Informz, sent on ours' and HPE's behalf. Attendees greatly enjoyed their time at Discover 2017, taking advantage of the many opportunities to learn and network with other members of the tech industry.
For more information about what our team took away from Hewlett Packard Enterprise Discover 2017 and how it can apply to your business and the services we provide,
get in touch with us right away at (518) 459-6712 or info@pnjtechpartners.com.