Although Microsoft has yet to announce when exactly their new server will be launched, they have released 4 technical previews thus far to give you an idea of what's coming. They have announced a plan to launch a 5th technical preview before their upcoming big release.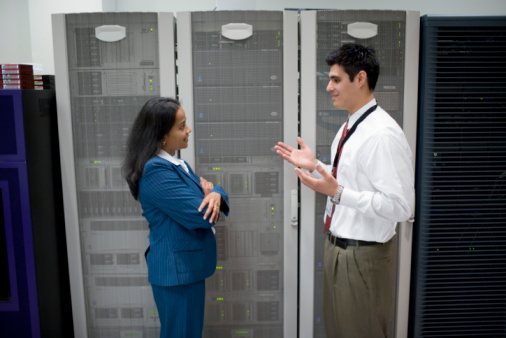 Their Windows Server 2016 includes several new options that will give your business higher influence over cloud computing, virtualization, and building servers to function both on-premises and in the cloud. This can be highly beneficial in maintaining an organized and securely structured IT infrastructure.
Hyper-V
Microsoft is releasing a completely redesigned framework to improve the reliability, scalability and performance of your datacenters and hybrid cloud. They have improved Hyper-V into a full software-defined datacenter that covers aspects such as storage, networking and computing.
They have also increased security to protect your virtual machines from malware and also internal threats (employees or staff overstepping their boundaries) to provide an intensity of cloud security comparable to your current on-premises security.
Security
The new Windows Server 2016 has added enhancements to their security to ensure your production environments are safe from internal and external threats.
Using the Just Enough Administration limits administration rights from within, ensuring misuse and breaches are avoided. It gives your staff and employees just enough administrative rights to do their jobs and not divert off to anything else. This program is also expanded to domain controllers and server maintenance roles.
With Windows Defender you get malware protection that will automatically protect your software against any known malware, and it continuously updates the antimalware definitions to protect your datacenters and hybrid cloud.
Nano Server
Nano Server is fabricated to be a minimal footprint version of your server operating system; it consumes no more than 512MB of your disk space and less than 256MB, all which depends on your configurations.
This software is managed remotely by Windows PowerShell and other tools which aid in the process of adding new roles. It does not have any direct user interface other than the Emergency Management console.
Storage Replica
The Storage Replica gives you the ability to replicate entire volumes at block level, thus far, you've only been able to replicate asynchronous levels of virtual hard disks but now, you can choose between synchronous and asynchronous transmissions.
This program is perfect for disaster recovery scenarios in which you need to backup immediately in the face of a threat. It can be personalized to your specific IT infrastructure with server-to-server or cluster-to-cluster options.
PNJ Technology Partners covers every aspect of your IT infrastructure needs. We handle all of your information technology – from maintenance to support – while keeping you up-to-date on the latest advancements. Call (518) 459-6712 or email us at info@pnjtechpartners.com.